Blackjack table
Like in most other casino games there is a table involved with the game play. Blackjack is no different. The blackjack table, though different in some casinos, looks pretty much the same everywhere. It is in an oval shape with seven or eight seats around the outside and the croupier (the dealer) stands behind the table where he can control the game flow.

That is the general layout, now for what is on the table. Closest to the dealer you will see rows, upon rows of chips that are held by the dealer and are used when players buy into the game. The croupier will also use this area to stake the casinos winnings for each hand. The only other thing that is in front of the dealer is the white box that is used to house the dealerís cards.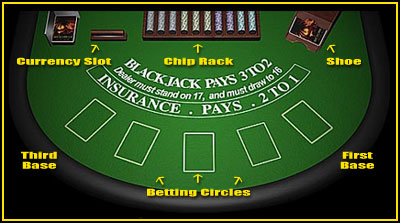 In front of each player you will see a couple of different things, one being where you will place each and every one of your bets. This is usually marked with the word ďbetĒ so it is entirely simple to follow. Aside from the betting circle there is a rectangular box that the dealer with deal your cards into.

The blackjack table is very is to follow and by just playing a few hands you will feel comfortable enough with it in order to enjoy the rest of your time there.

One option for newbies is to play our free online games that we offer to you right here at Blackjack-St. or you could even download the free games that some of the online casinos offer as well. Heck, why donít you do both. You can read more about what we offer and what you might look out for on our free blackjack page.

Other than what I have just told you there isnít much more to explain about the blackjack table. The casinos make them pretty straight forward in order to attract as many people as they can aside from the craps and roulette table.